BJYM – Bhartiya Janata Yuva Morcha
Bhartiya Janata Yuva Morcha is the youth wing of the largest political party of the country, Bhartiya Janata Party. This page is to support BJYM Borivali.
Bharatiya Janata Yuva Morcha (BJYM) was formed in 1978. Its first national president was Shri Kalraj Mishra. After reorganization of Bharatiya Jan Sangh in the form of BJP, BJYM is working as its youth wing. BJYM has organizational structure similar to that of BJP. Many prominent leaders such as Shri Rajnath Singh, Late Shri Pramod Mahajan and Shri Shivraj Singh Chauhan served as national presidents of BJYM in the past.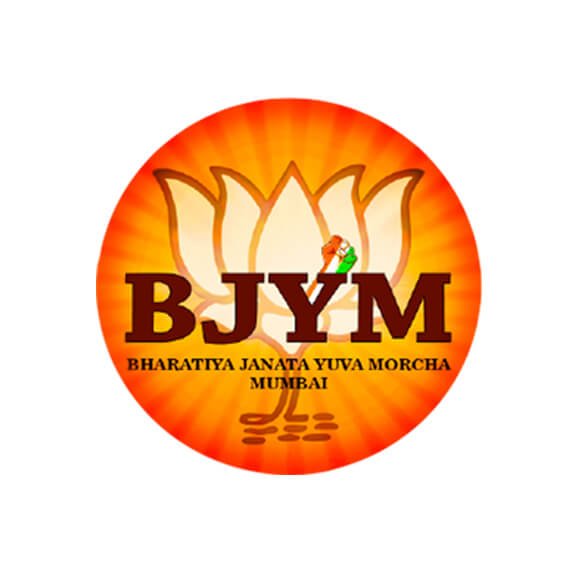 BJYM believes in all core ideologies of the BJP. The concept of Integral Humanism has a special place in its ideology, with the party aiming to transform India into a modern, progressive and enlightened nation which draws inspiration from India's ancient Indian culture and values.
Being the youth wing of the BJP, BJYM mainly focuses on the issues related to country's youth. BJYM believes in empowering the youth and giving them a platform where they are engaged and their aspirations and sentiments are reflected in the policies of the BJP.
Currenty, under the leadership of Shri Sharad Satam (as Mahamantri of Borivali Vidhansabha), Shri Ajit Dongre (as President of Pashim Maharashtra Aaghadi, Borivali Vidhansabha), and Shri Sunil Ankam (as President of Charkop Cultural & Sports Foundation – CCSF), BJYM Borivali is raising issues regarding the development of Borivali on a regular basis.
POLITICAL BANNERS AND FLYERS